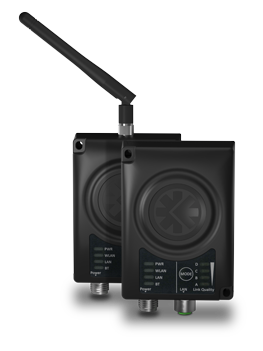 New possibilities for Industrial Wireless Solutions
Use with point-to-point wireless Industrial Ethernet installations through hazardous or hard-to-reach locations.

The new Anybus Wireless Bridge II supports a longer wireless range – 400 meters

Full compatibility with Anybus Wireless Bolt
Anybus® Wireless Bridge II™
Make life easier by connecting your industrial devices and networks over a wireless link.
HMS Industrial Networks now introduces a new, upgraded version of their popular Anybus Wireless Bridge.
The Anybus Wireless Bridge II supports up to 400 meters of reliable wireless communication, and can communicate via both Bluetooth or WLAN. It is ideal for replacing Ethernet cabling in hard-to-reach or hazardous locations.
Cable replacement or access point
By using the Anybus Wireless Bridge II, automation engineers can achieve new and smarter network infrastructures. Often used as an Ethernet cable replacement (point-to-point communication), the Wireless Bridge II can also be used as an access point for several WLAN/Bluetooth nodes such as smartphones or tablets within range. In the process, savings are achieved thanks to the reduced amount of Ethernet cabling.
Select your Anybus Wireless Bridge II version: