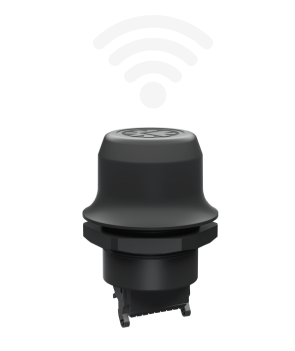 Wireless Access for Machines


Attach an Anybus Bolt onto a cabinet or machine to enable wireless access.
Transmission via Bluetooth, BLE or WLAN

Connects machines via Ethernet, Serial RS-232/485 or CAN

All-in-one solution – everything is integrated
Anybus® Wireless Bolt™
Wireless connector giving a machine or cabinet wireless access via Bluetooth® or Wireless LAN (WLAN)
Anybus Wireless Bolt enables you to connect industrial devices to a wireless network. It is attached onto a cabinet or a machine to enable wireless access. Wireless transmission is made via Bluetooth, Bluetooth Low Energy or WLAN technology.
The Wireless Bolt is IP67-rated and has a max range of 100 meters. It can communicate with devices using Ethernet, Serial (RS232/485) or CAN. Regardless of communication method, you have the same connector (2x9p;3,5 Plug Connector) for both power and communication.
Select your Anybus Wireless Bolt version:
Anybus Wireless Bolt is currently available in the Ethernet only version. CAN and serial versions will be available in the second half of 2017. Contact Global M2M for more details.