Work remotely, stay safe &
stay productive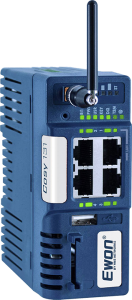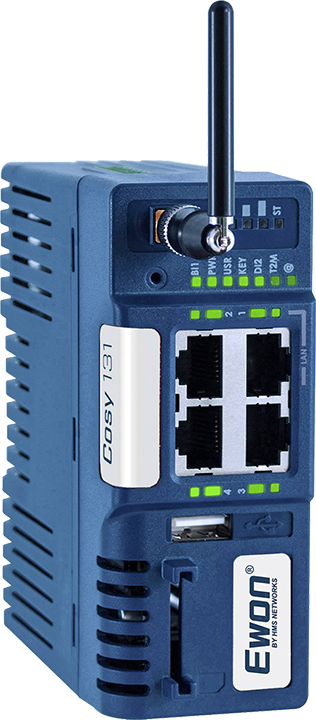 Promotion runs till the 31st December 2021!
Global M2M's Terms & Conditions Apply
Can't Get On-Site?
Get access to your site with
Ewon COSY Remote Access Routers
COSY131-4G $895 each
ex-GST

* **
*

FREE VPN SERVICE with Talk2M:
Transparent and Secure Industrial Cloud
**

FREE MAGNETIC BASE ANTENNA & TRIAL SIM PACK
WITH 4G VERSION

Securely connect to your machines, from anywhere, when it matters.
The Ewon Cosy 131 is an Industrial VPN Router designed to offer easy, scalable remote access across the Internet to machines and installations in the factory. There are three models available – Ethernet, Cellular and WiFi.
Ewon offers the ability to troubleshoot your machines remotely without going on-site, drastically reducing support costs and improving machine uptime.
Security without compromising convenience
The Ewon motto is "Secure and Easy".
Every aspect of their solution optimises security while ensuring that the product is easy to use for the mass market.
No special IT configuration tools or command-line skills needed.
Full end-to-end remote access solution
Along with their routers, Ewon's solution includes a desktop VPN client, mobile VPN client, and VPN cloud-service all free of charge. These components are designed to work together and create a seamless connectivity experience for your engineers. 
Flexible solutions that suit all environments
Ewon have a variety of routers to fit your connectivity needs. Have a hard-wired Ethernet connection in your factory? Need WiFi connectivity? Installing in a remote site with only cellular service? Ewon have you covered. Compare all versions of Cosy.
The COSY solution focuses on machine builders who want to stay competitive.
In order to do this, HMS' machine builders are obsessed with optimising every aspect of their operations.
The combination of the COSY gateways with Talk2M, the first Secure Industrial Cloud, enables you to connect with your machines
wherever they are deployed.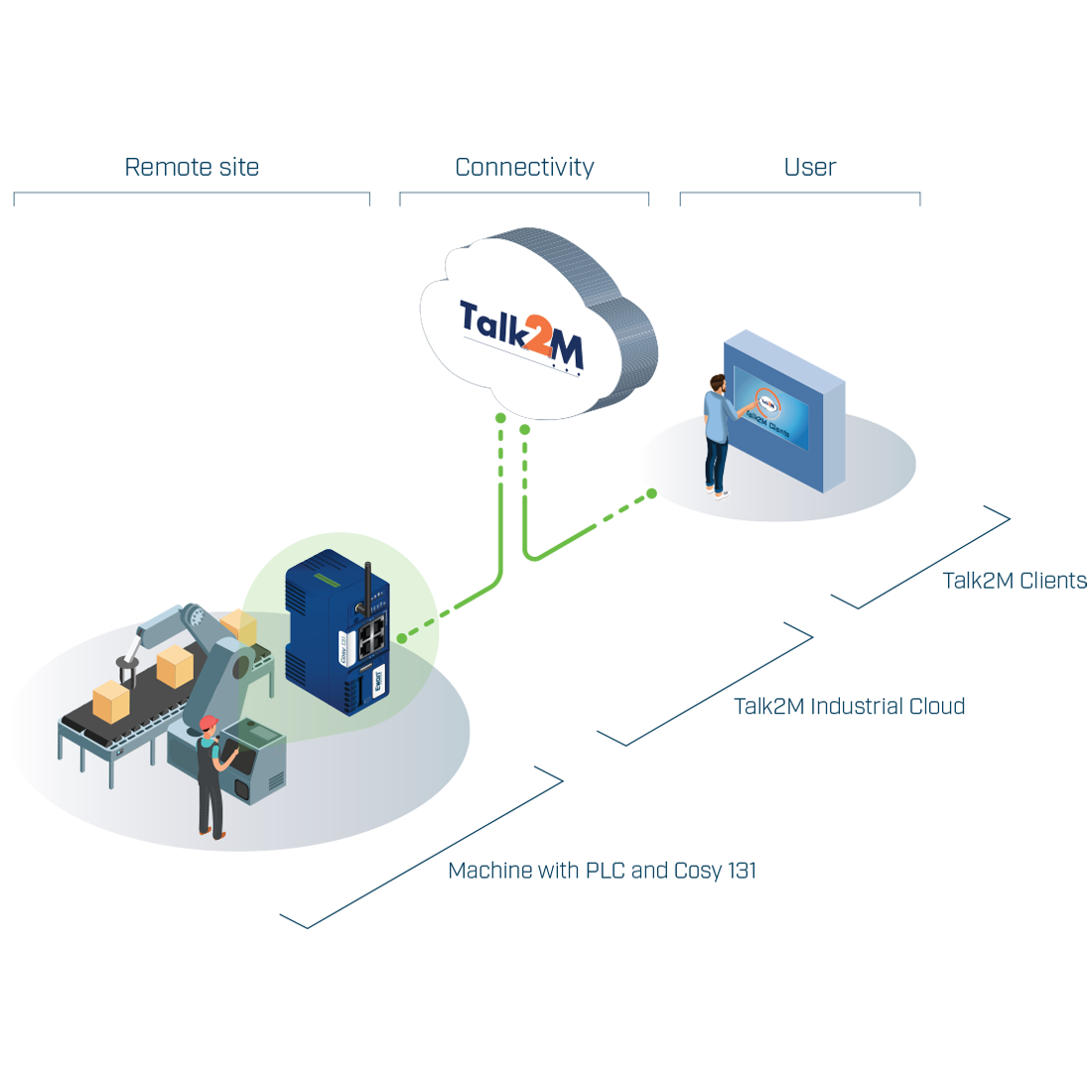 Reduce operational costs:
By installing a Cosy on every machine, Ewon's customers have reported significant savings in their operational costs due to three factors:
1. First, there is a direct saving from no longer needing to travel on-site for support.
2. Engineers report a much higher "fix on first visit" ratio thanks to being able to remotely troubleshoot support issues.
3. Remote access allows engineers to deploy and integrate their machines faster and meet tight end user deadlines.
Expand your business:
Thanks to Cosy, you can now support expansion into new markets and reduce distance boundaries.

A local machine builder in Germany can easily deploy and support customers in Vietnam, without worrying about the hassle of travel.
Geographic boundaries are a thing of the past.
By leveraging the Ewon connectivity solutions, machine builders can scale operations without needing to add more engineers to their team.
Keep everybody happy:
Remote access solutions translate to rapid issue resolution for your customer. Less downtime and faster return to full production helps improve your customer experience and loyalty.
But remote access solutions also benefit your employees. By allowing your valued engineers to remotely troubleshoot issues, they will stay passionate, committed, and happy to work at
your company.
"Since we started to use Ewon, we saved nearly 150 trips to customers!"
Key Features of the Ewon COSY 131 Router:
EASIER THAN EASY
Quick setup wizard
Works out-of-the-box with all major PLC/HMI brands and USB enabled devices
Machine (PLC) can be kept operational during installation
Easy to commission without local connection
NO HIDDEN COSTS
FREE VPN client for desktop & mobile
Included VPN cloud access
Unlimited number of machines & users
I.T. APPROVED
Exclusive outbound connection for high security
Two-factor authentication, audit trail & network segregation
Remote access can be controlled (on/off) by end-user with an external key switch
ISO27001 and STAR Certificate approved
HIGH AVAILABILITY
25+ servers spread worldwide to for always-ready Remote Access
Easily add Ewon Cosy devices and users to your account
Configurable SMS and Email notification for pro-active maintenance
Secondary WAN interface for backup Internet Connectivity


Ewon Remote Access and IIoT Solutions